The Course overview
Course Rating:
In: Par 36 Yellow 3024 White 2873 Blue 2731 Red 2530
Out: Par 36 Yellow 3142 White 2992 Blue 2835 Red 2627
Total: Par 72 Yellow 6166 White 5865 Blue 5566 Red 5157

In the interest of all players in the field, please note:
A maximum of 4 hours and 15 minutes is allowed to play the course comfortably (2 hours per nine holes and a maximum of 20 minutes in the halfway house). Please keep up with the four ball ahead.
A maximum of 4 players per tee time. One golf bag per person. Compulsory sand bag per player.
Please fill divots and repair pitch marks on greens.

HOLE ONE
This deceptively difficult and very picturesque opening hole has a dam on the left and trees on the right which all come into play. A well placed bunker makes the approach shot to this green fairly difficult.

Par 4 Stroke 13 Yellow 321 White 310 Blue 285 Red 285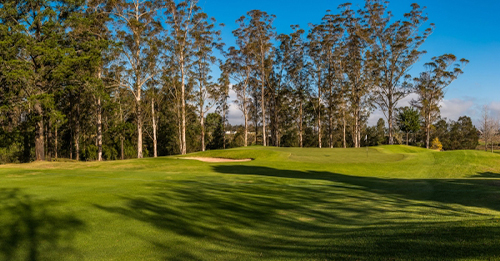 HOLE TWO
This mammoth par 5 starts off with a tricky tee shot through a couple of large trees onto a fairway, which doglegs to the left. Don't be surprised to be hitting in a longer iron for your third shot.

Par 5 Stroke 5 Yellow 530 White 508 Blue 463 Red 420
HOLE THREE
A well-placed drive is imperative on this hole, as the green is guarded on the right side by large trees and on the left front by a strategically placed bunker. The undulating green allows for some interesting pin placements.

Par 4 Stroke 9 Yellow 376 White 365 Blue 339 Red 318
HOLE FOUR
This hole is a short par 4 on any day. The signature feature on this hole is the bunkers on the left and right sides of the fairway, as these bunkers are in play for most golfers. Use of a long iron or fairway wood is often the best option for your drive on this hole.

Par 4 Stroke 11 Yellow 326 White 310 Blue 310 Red 277
HOLE FIVE
Some very pretty trees on the right hand side of the fairway are the only real obstacles on this hole. A drive down the left of the fairway will leave you an open shot to this large par 4 green.

Par 4 Stroke 3 Yellow 338 White 324 Blue 311 Red 293
HOLE SIX
This is the only par 3 on the front nine. The large bunker on the left of the green and a mound on the right, means that missing this green will normally end in dropping at least one shot to par.

Par 3 Stroke 15 Yellow 158 White 140 Blue 133 Red 126
HOLE SEVEN
This par 4 dogleg right has a well-earned stroke 1 rating. The view of the mountain will test your concentration, so be sure to finish the hole before you stop to stand and look in awe of this hole's beautiful setting.

Par 4 Stroke 1 Yellow 420 White 404 Blue 390 Red 335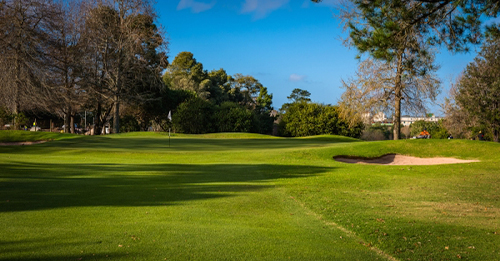 HOLE EIGHT
The way to play this hole is to hit a long iron or wood to the right of the dangerous left-hand bend of this hole. Some interesting trees and bunkers guard most of this green.

Par 4 Stroke 17 Yellow 308 White 287 Blue 287 Red 256
HOLE NINE
This par 4 is one of the most intimidating driving holes on the course. However, if you miss the wall of trees on your right and the lateral hazard on your left with your drive, the approach shot to the green is very straightforward.

Par 4 Stroke 7 Yellow 365 White 344 Blue 317 Red 317
HOLE TEN
The first hole on the back nine is characterised by large trees guarding the left and right sides of the fairway. The out of bounds fence only really comes into play at the green where a shot pulled to the left of the green will often end up out of bounds.

Par 4 Stroke 14 Yellow 350 White 337 Blue 337 Red 319
HOLE ELEVEN
A good tee shot on this par 5 will leave you with a straightforward approach to the green. All golfers must however be aware of the out of bounds fence running down the entire length of the left hand side of the hole. This fence separates the golf course form the King George Protea Hotel.

Par 5 Stroke 2 Yellow 497 White 474 Blue 447 Red 418
HOLE TWELVE
The drive down this hole will always feed from left to right, so a drive on the left of the fairway will keep you well away from the dangerous trees on the right. If you can, you may want to ask a local golfer for some tips on how the green breaks, because it can be confusing.

Par 4 Stroke 16 Yellow 330 White 312 Blue 299 Red 299
HOLE THIRTEEN
This is the first of the three par 3's on the back nine. This is the shortest of all par 3's on the golf course, it has been known to be one of the most difficult. With all the slopes on this green, getting the pace and direction correct is crucial.

Par 3 Stroke 18 Yellow 152 White 137 Blue 123 Red 104
HOLE FOURTEEN
The trick to making a good score on this hole is to keep your drive well right. Large trees on the left tend to hide most of the green if your drive finds the middle or left hand side of the fairway. Long hitters do tend to hit this par 5 green in two quite regularly.

Par 5 Stroke 4 Yellow 455 White 444 Blue 423 Red 374
HOLE FIFTEEN
This amazing par 3 has an elevated tee down to a large green. This corner of the course is peaceful and quiet, so take some time to reflect on the beauty that this course has to offer, and try to forget about some of those bad shots you may have played up to now. Eagle opportunity!

Par 3 Stroke 8 Yellow 172 White 155 Blue 140 Red 140
HOLE SIXTEEN
This is the third and last par 5 you will play on the back nine. The hole has a bunker on the right of the fairway, which is well positioned to catch any golfer trying to cut the corner. A bunker also guards the front of the green, so laying up for your second shot is normally a better option.

Par 5 Stroke 6 Yellow 492 White 469 Blue 457 Red 413
HOLE SEVENTEEN
Finally you've got to the signature hole on the golf course. The par 3 has always been regarded as one of the best par 3's in the world. It's a long par 3 that leaves you no room for error and is therefore rated as the second most difficult hole on the back nine. This hole rated as one of the top 500 in the world, as well as the best par 3 in South Africa.

Par 3 Stroke 12 Yellow 185 White 173 Blue 165 Red 142
HOLE EIGHTEEN
18 is the most difficult hole on the back nine. It has a large dam and thick bush on the left of the fairway, and the fairway feeds towards these hazards. Your approach shot down to the green has to be well positioned, because if you hit your ball right of the green, you could find yourself hitting out of what the locals so proudly call "the snake pit". Bobby Locke's best two finishing holes in South Africa.

Par 4 Stroke 10 Yellow 391 White 372 Blue 340 Red 321