About George Golf Club
The George Golf course is a beautifully manicured, 72 par, 18-hole course.
The course rating for men is 73.2 (Yellow – 6162m), 71.2 (White – 5865m), 69.8 (Blue – 5566m) and 67.8 (Red – 5157m)
The course rating for ladies is 79.8 (Yellow – 6162m), 77.8 (White – 5865m), 75.6 (Blue – 5566m) and 73.1 (Red – 5157m)
In the interest of all players in the field, please note:
A maximum of 4 hours and 15 minutes is allowed to play the course comfortably (2 hours per nine holes and a maximum of 20 minutes in the halfway house). Please keep up with the four ball ahead.
 A maximum of 4 players per tee time.
One golf bag per person.
Compulsory sand bag per player.
Please fill divots and repair pitch marks on greens.
Visitors are welcome daily, with the exception of Wednesday and Saturday afternoons, which are reserved for Members and their guests.
Bookings are essential.
THE TEAM
Club President
Maurice van Merch
Course Superintendent
Pietie Botha
Council Member
Armandt du Plessis
Council Member
Dion Blumrick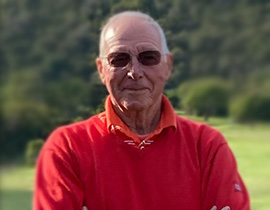 Club Captain
Jaco van Niekerk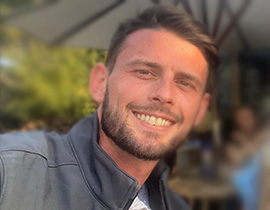 Club General Manager
Sandra Lennox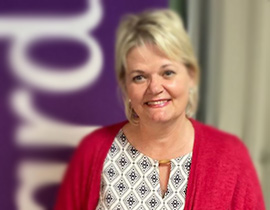 Council Member / Ladies Captain
Helen Hills
George Golf Club Local Rules
LOCAL RULES
The Rules of the R&A will apply except so far as they are modified by the following Local Rules.

1. OUT OF BOUNDS – (Rule 18.2)
Beyond any wall, fence or line of white stakes; on or beyond any white line defining the boundary of the course and within the confines of the clubhouse and maintenance shed at hole 9.

2. ABNORMAL COURSE CONDITIONS – (Rule 16.1)
Any area encircled by a white line;
Clearly, identifiable tyre ruts made by tractors or heavy machinery;
Control boxes, fixtures of the irrigation systems and cement retaining walls.

3. PROTECTION OF YOUNG TREES – (Rule 16.1f)
The young trees identified by plastic rings are no play zones:

If a player's ball lies anywhere on the course other than in a penalty area and it lies on or touches such a tree or such a tree interferes with the player's stance or area of intended swing, the player must take relief under Rule 16.1f. NOTE: There is no back on the line relief from trees with a plastic ring or any other trees.

4. NO-PLAY ZONES – (RULE 16.1f)
The Garden behind the hole 9 and hole 18. When a ball is in the no play zone, the ball must not be played as it lies and relief must be taken from interference by the no play zone by dropping the original ball or another ball in the demarcated dropping zone under Rule 16.1f.

5. PENALTY AREAS – (Rule 17)
The red penalty area on the left of hole 9 extends to and links-up with the out of bounds edge.
All storm water drainage ditches that are not marked with penalty stakes, are to be treated as part of the general area and not as a penalty arear (e.g. ditch down behind hole 17).

6. DROPPING ZONES
As an additional option for relief from a penalty area, a ball may be dropped, under penalty of one stroke, in the dropping zone.
Dropping zones are marked on hole 9 (left and right), hole 15 and hole 18.
These dropping zones are relief areas under Rule 14.3

7. PACE OF PLAY – (Rule 5.6)
The maximum time allowed for 18 holes is 04h15 (2 hours per nine holes and a maximum of 20 minutes in the halfway house). Groups who are behind will be given a warning by the course marshal, a further breach will result in penalties as per Rule 5.6.

8. READY GOLF
In stroke play, players may play "ready golf" in a safe and responsible way (Rule 6.4b(2)).

PENALTY FOR BREACH OF LOCAL RULE:
Match Play – Loss of Hole; Stroke Play – Two strokes